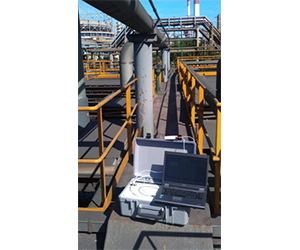 Portable TOF MASS MS200
---
MS-200 is a portable, battery powered mass spectrometer for gas analysis entirely contained in a single case.
MS-200 transports the advantages of mass spectrometry - good specificity for the identification of unknowns, versatility, accuracy and sensitivity - from the laboratory into the field.
MS-200's membrane inlet concentrator allows a wide range of gases to be identified and measured from the low p.p.b. range up to percent levels.
Spectra are collected in the MS- 200 with a simple press of a "button" in Windows® based software.
Automatic mixture analysis software in the MS-200 eliminates the need of a GC interface.
No operator maintenance or specialist knowledge is required for the MS-200 vacuum system.